Stockholm 2017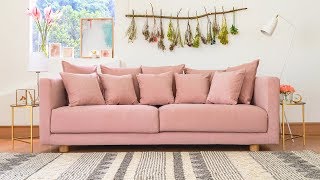 Stockholm 2017 Sofa Covers
Need a makeover for your Stockholm 2017 sofa? Customise your very own beautiful slipcover now from our wide range of fabric and leather options!
Revive your old IKEA sofa with custom replacement sofa covers!
Didn't find what you are looking for? Head to our main Ikea category page to find your sofa.
What our customers are saying
We ordered a slipcover for our pottery barn sofa and it fit perfectly. A family member even commented that she liked our slip cover from Comfort Works more than the slip cover t... [Read More]
I was so pleased with the quality of my covers!! Excellent attention to detail and wonderful customer service. Thank you!!!
Excellent customer service and the slips arrived sooner than i thought! So glad i got these and saved my couch from land fill. They'll was a shabby grey, but with the new... [Read More]
Delivery on time, i am very happy with the color i chose, and if fits perfectly.
My IKEA couch cover is not only beautiful, it also fit perfectly and the fabric is extremely soft! I highly recommend Comfort Works.
I have received it without any problem. Perfect fit. I'm very happy. I will use it carefully. Thank you very much. MJ-WDE-2-UFFC Performance Blend Ocean
So happy with my cover! It fits very snug and the fabric (Kino) feels great and very durable. Arrived within the time stated and easy to put on! Highly recommend.
This is the most perfect cover. It's 100% better than the IKEA one that came with. I love it!
Excellent suivi client, emballage soigné et housse de très bonne qualité !! J'étais un peu réticent face au prix mais je n'ai a... [Read More]
Good quality (we went with a 100% cotton fabric). Easy to put on.