Stockholm 2017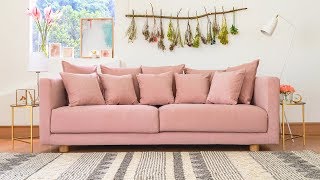 Stockholm 2017 Sofa Covers
Need a makeover for your Stockholm 2017 sofa? Customise your very own beautiful slipcover now from our wide range of fabric and leather options!
Revive your old IKEA sofa with custom replacement sofa covers!
Didn't find what you are looking for? Head to our main Ikea category page to find your sofa.
What our customers are saying
I purchased my slipcovers two years and was originally so happy with them- good fit, nice fabric, etc. I originally purchased them because they were easy to wash, but I hand was... [Read More]
We received our seat cover and it is beautiful! It fits perfectly, the color is as shown on the website and the fabric is nice and soft. Comfort Works offers great service and r... [Read More]
The fit is really good but feel I paid way too much for the quality of slipcover I received from Comfort Works. The fabric feels thin. My couch does not look high end with the ... [Read More]
Great service. Slipcovers fit perfectly.
Amazing quality material. Fits our sofa perfectly and has changed the look of the room completely! Thank you very much, will buy some more covers soon :)
Le produit commandé était conforme à ce que j'espérais. J'ai eu quelques inquiétudes avec la livraison qui a tardé un peu e... [Read More]
Wow! Great quality! We have had our Karlanda Sofa from IKEA for over 15 years and this is our second cover from Comfort Works and we could not be more happy. Great fit, durable ... [Read More]
I was so surprised at how my old sofa looked with the new slip covers! It looked like a new sofa!!! The fabric is really soft and the sizes were perfect. I am so pleased with... [Read More]
Delivery on time. Very trustable company with a professional customer service. I love my cover! I am very very happy about the product. My living room looks great now. Thank you CW
The cover is beautiful! It's so soft, luxurious and a perfect fit. Love it! Thank you.