Stockholm 2017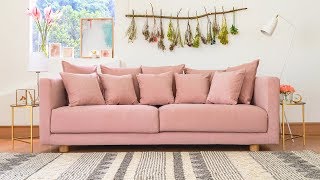 Stockholm 2017 Sofa Covers
Need a makeover for your Stockholm 2017 sofa? Customise your very own beautiful slipcover now from our wide range of fabric and leather options!
Revive your old IKEA sofa with custom replacement sofa covers!
Didn't find what you are looking for? Head to our main Ikea category page to find your sofa.
What our customers are saying
From start to finish the customer service was excellent. The slip covers fit perfectly on our CB sofa, it gave it quite a facelift. Shipping was fast and easy as well. Very happ... [Read More]
Great quality, personalized thank you note, excellent!!!
After reading all positive reviews, I was confident on Comfortworks but wasn't so sure about the fabric that I chose (canvas white). I've just received the slipcover... [Read More]
Fantastic covers, great fit and lovely fabric. It's a simple but brilliant idea for refreshing the sofa instead of replacing it!
Love my new slipcover! It gave new life to my old sofa! The turnaround time from ordering to delivery was exactly what they said it would be!
Compramos una funda para un Klippan de IKEA, ha quedado genial, le ha dado un toque clásico al sofa para que pegue mejor con nuestro salón, lo más important... [Read More]
We have a pair of vintage IKEA chairs & I had been researching slipcovers when I came across the Comfort Works site. The prices were very reasonable & I ordered some fab... [Read More]
Fit perfectly. Very good quality. Recommended.
After sitting on the new covers for just one night watching TV, the fabric expanded. Totally stretched out with very unattractive folds of fabric throughout